Email Alert: Monitor Job Titles and Get Notified When Companies are Hiring for the Same Role - For recruitment agencies
Get ahead of the competition and connect with hiring companies before they even post job openings on popular job sites! With our search engine tool, you'll receive email alerts when we find companies hiring for positions similar to the ones you're already actively sourcing for.
The email alert includes postings we discover on Applicant Tracking Systems such as Greenhouse, Lever, Workable, etc., and on job sites such as LinkedIn Jobs and Indeed. All job postings we discover are newly posted on the same day and are sent to you within 24 hours.
Top 4 reasons why every agencies should use this email alert system:
Top 4 reasons why every agency should use this email alert system:
Be the First: Gain a competitive edge by being the first to reach out to hiring companies with a list of ready candidates within 24 hours of job posted by the hiring companies, perhaps even before they post on job sites or share the job description with other agencies they work with.
Less Time-Consuming: You no longer need dedicated time for extensive business development. Our tool does the heavy lifting by sharing all relevant information, from the job posting URL to the contact point's LinkedIn URL. With just 5 minutes a day, you can confidently send out outreach to potential clients, saving valuable time and effort.
Multiple Roles for 1 Candidate: Depending on roles, up to 100 companies hiring for the same role can be sent per month through our email alert system. Send the same pool of candidates into multiple relevant roles.
Highly Relevant: The roles you're sending into the alerts are highly relevant to the positions you're already actively sourcing for. Say goodbye to sifting through irrelevant job postings; our tool ensures you receive targeted opportunities that align with the requirements from job functions, skills, and country/region. We can also include a "do not send" list where you share the type of companies you do not want to work with, for example, company names you do not want to work with.
The following is a sample of how the email alert looks: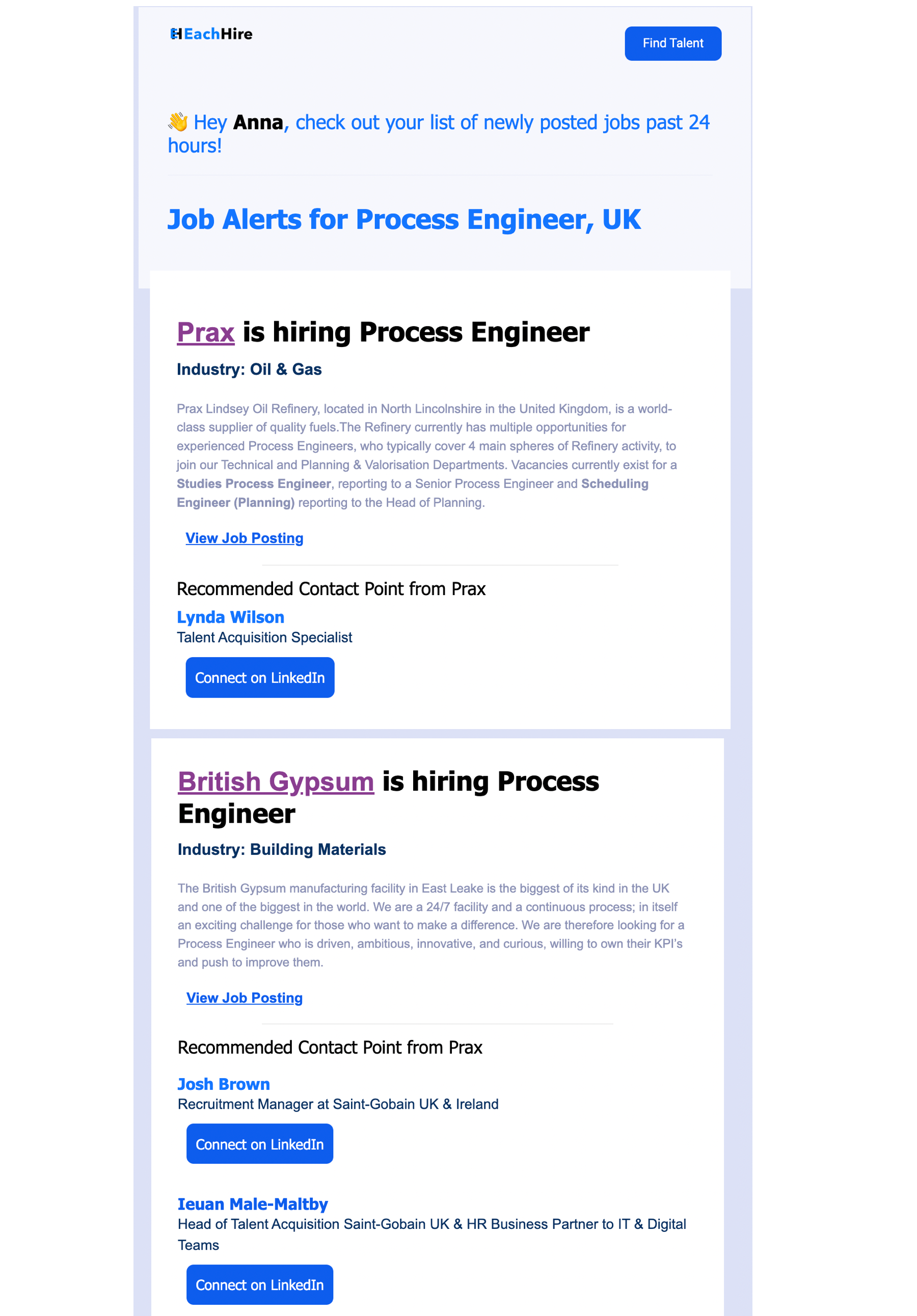 Tips for a successful campaign
Request job alerts for roles where you have a strong list of active candidates.
Request job alerts for roles where you have a very strong, highly placeable top candidate.
Reach out to the recommended contact people as soon as you receive the email alert - it takes less than 5 minutes!
Read the job postings before reaching out and match them to any potential candidates in your list.
Here's how it works:
On the form below, provide us with the job title, required skills, and region you're interested in. For example, you might want to monitor job opportunities for a Sales Development Representative with SaaS experience in the UK.
Our system will regularly gather data from ATS, job sites, and career pages.
We'll inform you through your email as soon as our system successfully detects a new job posting that meets your requirements.
Along with the email alert, we'll also provide you with a list of potential contacts, including HR personnel, talent acquisition specialists, or hiring managers. This way, you can approach them as a valuable candidate source, armed with a ready list of qualified candidates.
Want to do the outreach in a larger scale?:Are you a new customer? Or perhaps you're interested in obtaining a comprehensive list of all currently active job openings? Check out our MPC Campaign LinkedIn Jobs search.
Pricing:
We offer a 3-days Free Trial! After 3 days, the cost is $39 per job title alert for each email address you add to your watch list. You will receive daily updates whenever a new job posting is detected. Additionally, the email alert will include the LinkedIn profile URLs of potential contact points from the company, along with their contact details if available.
Need more information? Schedule for a call with us.
Sign up for a 3-days trial now!