Hiring Partner Attorney in the US: Ways to Find and Attract Top Legal Talent
Explore effective strategies and tools for Partner Attorney hiring in the US, including leveraging legal recruitment agencies, utilizing talent search tools, and adopting best practices to ensure a successful recruitment process.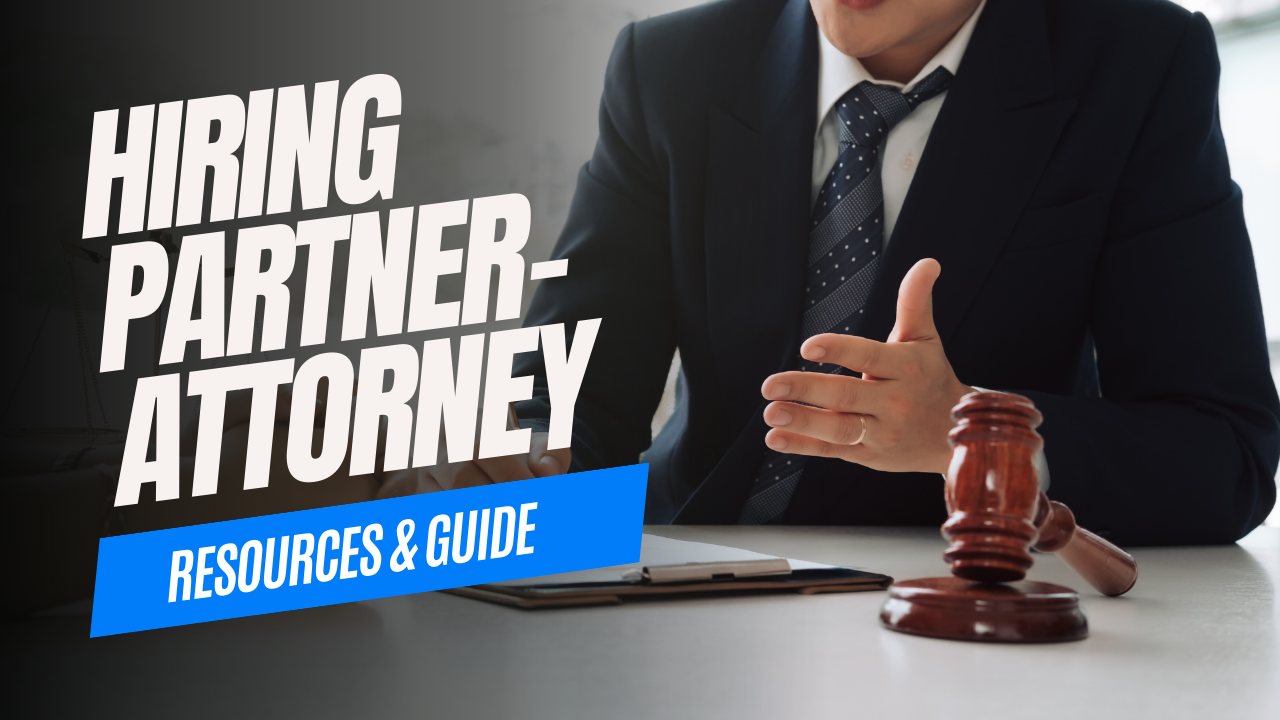 Introduction
In the competitive legal industry, finding and hiring the right Partner Attorney is essential for the success and growth of law firms. Partner Attorneys bring valuable expertise, a strong client base, and the potential for portable billables. However, the process of attracting and hiring top legal talent can be challenging and requires a strategic approach. In this guide, we will explore effective strategies and tools for Partner Attorney hiring, including leveraging legal recruitment agencies, utilizing talent search tools, and adopting best practices to ensure a successful recruitment process.
Understanding the Role of a Partner Attorney
Before diving into the recruitment process, it is essential to have a clear understanding of the role and responsibilities of a Partner Attorney. Partner Attorneys are senior-level professionals who have achieved a high level of expertise and experience in a specific area of law. They typically have a track record of success, a strong network of clients, and the ability to generate significant revenue for the firm.
Partner Attorneys are responsible for managing client relationships, overseeing complex legal matters, and providing strategic guidance to the firm. They often have leadership responsibilities, including mentoring junior attorneys and participating in firm management decisions. Partner Attorneys are expected to contribute to the growth and success of the firm by bringing in new business and maintaining existing client relationships.
The process of Partner Attorney hiring requires a thoughtful and systematic approach to identify, attract, and evaluate potential candidates. It involves understanding the unique needs of the firm, aligning the candidate's expertise with those needs, and assessing their compatibility with the firm's culture and values. Employing effective recruitment strategies and tools can help streamline the process and increase the likelihood of finding the ideal Partner Attorney.
Resources to find Partner-Attorney
Leveraging in AI Candidate Sourcing Tools

Advancements in artificial intelligence (AI) have revolutionized the recruitment industry. AI-powered tools can help you streamline the partner attorney hiring process, identify qualified candidates, and make data-driven decisions. Here are some AI tools you can leverage:
EachHire.com is an AI headhunter assistant that uses a combination of advanced AI and GPT technology to help companies hire legal talent. The solution saves you time and effort. Simply provide your search criteria, EachHire will search the web for top and hidden partner attorney candidates that match your search criteria, engage with the shortlisted talents and send interested candidates to hiring companies. With EachHire pricing at just $169 per job, it offers an affordable solution for law firms of all sizes.
PeopleGPT is an AI-powered chatbot that can assist you in finding partner attorneys. PeopleGPT will scour the web for people profiles that match your requirements. It also integrates with email tools, allowing you to easily reach out to potential candidates. PeopleGPT's conversational interface makes candidate sourcing more engaging and efficient.
💡
Get connected with Partner Attorney candidates today.
(Last Updated: 12 July 2023)
Profile 1:
Commercial Litigation/Corp Law
(Portable Billables $350K )
Profile 2:
IP / Patent Partner-Attorney
"100 Best Performing Attorneys Overall - Patent Prosecution (Top 50)
Profile 3:
IP/Trademark Partner-Attorney
(Portable Billables $700K) from California
Get connected with the candidates
or write to joyce@eachhire.com
Other profiles available for Insurance Defense, Health Care Law, Employment/Labor, Litigation, Real Estate, Renewable Alternative Energy, Bad Faith, Corporate, Domestic Relations/Probate Litigation, Litigation Defense, Corporate and Funds, Commercial Real Estate, Land Use
Leveraging in Legal Recruitment Agencies
Legal recruitment agencies can be valuable partners in the search for top legal talent. These agencies specialize in identifying and connecting law firms with qualified attorneys who possess the skills and experience necessary for success as Partner Attorneys. Working with a reputable legal recruitment agency offers several advantages:
Here is a list of legal recruitment agencies in the US you can work with to hire Partner Attorney:
(Last Updated 12 July 2023)
CGAVERY https://cgavery.com
Platinum Legal Search Group, LLC: https://www.platinumlegalsearch.com
Blue Signal Search: https://www.bluesignal.com
OnPoint Search Consultants: https://www.onpointsearchconsultants.com
Jobot: https://www.jobot.com
BCG Attorney Search: https://www.bcgsearch.com
ecocareers: https://www.ecocareers.com
Latitude Legal: https://www.latitudelaw.com
Prime Headhunting & Recruiting, Inc.: https://www.primeheadhunting.com
Southern Attorney Search & Staffing, LLC https://www.southernattorneysearch.com
SEARCH Group Partners, Inc.: https://www.searchgrouppartners.com
Talent Staffing Solutions Inc.
Choice Staffing Inc.
Lewison Legal Services Attorney Search Firm
Trustpoint One: https://www.trustpoint.one
If you're a Partner Attorney looking for a new role, here is a list of law firms currently hiring in the US:
(Last Updated 12 July 2023)
Freeman Mathis & Gary LLP: https://www.fmglaw.com
Bowditch & Dewey, LLP: https://www.bowditch.com
Maron Marvel Bradley Anderson & Tardy LLC
Moustakas Nelson LLC
Kiernan Trebach LLP: https://www.kiernantrebach.com
Capetola Divins P.C.
Norton Rose Fulbright: https://www.nortonrosefulbright.com
Hernández & Dauphin Legal P.C.
Lawrence & Associates Law Firm
Haratz & Stubbe LLC
Moulinos & Associates
Immigrant Crime and Justice LLP:
Danehey & Osterberg PC
Steffan & Co. Incorporated
Friedman Williams: https://www.friedmanwilliams.com
Morrison & Foerster: https://www.mofo.com
Winston & Strawn LLP: https://www.winston.com
Legal Job Boards
Specialized legal job boards, such as Lawjobs.com and Indeed Legal, focus on connecting law firms with legal professionals. These platforms allow law firms to post job listings and attract candidates specifically interested in legal positions. By utilizing legal job boards, law firms can increase their visibility among legal professionals actively seeking new opportunities.
By leveraging these AI tools, you can expedite the partner attorney hiring process, access a wider pool of qualified candidates, and make data-driven decisions.
Legal Directories and Associations
Legal directories and associations, such as Martindale-Hubbell and the American Bar Association, provide directories of Partner Attorneys and their areas of expertise. These directories can serve as valuable resources for law firms looking to identify high-performing attorneys in specific practice areas. Law firms can leverage these directories to research and connect with potential candidates.
Managing Partner-Attorney job description and interviews
Crafting an Effective Partner Attorney Job Description
A well-crafted job description is essential for attracting qualified Partner Attorneys. It serves as a marketing tool, showcasing the firm's values, culture, and the opportunities it offers. When creating a Partner Attorney job description, consider the following tips:
Tip 1: Clearly Define the Role
Provide a detailed description of the Partner Attorney's responsibilities, including specific practice areas, client expectations, and business development requirements. Clarify the level of partnership being offered and any potential path to equity partnership.
Tip 2: Highlight Firm Culture and Values
Emphasize the firm's culture, values, and unique selling points to attract candidates who align with your organization's ethos. Showcase any mentoring or professional development programs that can contribute to the candidate's career growth.
Tip 3: Outline Qualifications and Experience
Specify the required qualifications, experience, and any specialized skills or certifications necessary for the role. Be clear about the minimum years of experience required as a practicing attorney and any specific practice area expertise sought.
Tip 4: Discuss Compensation and Benefits
Provide a general overview of the compensation structure, including base salary, bonus potential, and any other benefits offered. If possible, highlight any unique perks or incentives that set your firm apart from competitors.
Tip 5: Include Contact Information and Application Instructions
Clearly state how candidates should apply, whether through an online portal, email, or through the legal recruitment agency you are working with. Include contact information for any inquiries and specify the deadline for applications.
Developing an Effective Interview Process
An effective interview process is crucial for evaluating Partner Attorney candidates and ensuring a good fit with your firm. Consider the following best practices when developing your interview process:
Best Practice 1: Structured Interviews
Conduct structured interviews that include a combination of behavioral, situational, and technical questions. This approach provides consistent evaluation criteria and allows for a fair comparison of candidates.
Best Practice 2: Panel Interviews
Consider conducting panel interviews involving multiple interviewers, such as partners, senior attorneys, and representatives from HR. Panel interviews provide different perspectives and allow for a more comprehensive assessment of candidates.
Best Practice 3: Assessing Business Development Skills
Partner Attorneys are expected to bring in clients and contribute to the firm's growth. Incorporate questions and exercises that evaluate candidates' business development skills, including their ability to build relationships, generate leads, and close deals.
Best Practice 4: Cultural Fit Assessment
Assess cultural fit by including questions that gauge a candidate's alignment with the firm's values, work environment, and team dynamics. Consider involving key team members in the interview process to evaluate compatibility.
Best Practice 5: Reference and Background Checks
Conduct thorough reference and background checks to validate a candidate's qualifications, experience, and reputation. Contact previous employers, colleagues, and clients to gain insights into the candidate's work ethic, professionalism, and client relationships.
Showcasing Your Employer Brand
To attract top Partner Attorneys, law firms must effectively communicate their employer brand and differentiate themselves from competitors. Consider the following strategies to showcase your firm's unique value proposition:
Strategy 1: Develop a Compelling Careers Page
Create an engaging and informative careers page on your firm's website. Highlight your firm's culture, values, employee testimonials, professional development opportunities, and any awards or recognition received.
Strategy 2: Leverage Social Media
Utilize social media platforms such as LinkedIn, Twitter, and Facebook to share updates about your firm's achievements, community involvement, and culture. Engage with potential candidates by sharing relevant industry news and thought leadership content.
Strategy 3: Participate in Industry Events
Attend and participate in legal industry events, conferences, and seminars. These events provide opportunities to network with legal professionals and showcase your firm's expertise and commitment to professional development.
Strategy 4: Foster Employee Advocacy
Encourage your current employees to share their positive experiences working at your firm on their personal social media profiles. Employee advocacy can significantly enhance your firm's reputation and attract potential Partner Attorneys.
Continuous Improvement and Adaptation
The legal industry is constantly evolving, and law firms must adapt their Partner Attorney hiring strategies to remain competitive. Continuously evaluate and refine your recruitment processes, leveraging feedback from candidates, employees, and industry trends. Stay informed about emerging technologies, industry best practices, and the evolving needs of legal professionals to ensure your firm attracts and retains top Partner Attorneys.
Conclusion
Hiring Partner Attorneys is a critical undertaking for law firms, requiring a strategic and comprehensive approach. By leveraging legal recruitment agencies, utilizing talent search tools, crafting effective job descriptions, and developing an efficient interview process, law firms can attract top legal talent. Showcasing the firm's employer brand, creating competitive compensation packages, and emphasizing the potential for portable billables further enhance the recruitment process. Building strong relationships with candidates, retaining and supporting Partner Attorneys, and continuously improving recruitment strategies are essential for long-term success. By adopting these strategies and embracing a proactive approach to Partner Attorney hiring, law firms can position themselves as industry leaders and attract the best legal talent for their organizations.